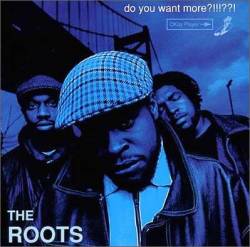 This past weekend, a hip hop blog called Nah Right
posted
a YouTube interview with ?uestlove, a member of hip hop live band supergroup The Roots. And he said that The Roots were retiring from touring in order to become the house band for Jimmy Fallon when he takes over Conan O'Brien's late night show next year. But that video was quickly pulled, so everyone has been scrambling to find out whether this apocalyptic...
thing
is actually true. NBC has no official comment, but we hear that it probably is. Essaywhuman?!!!??! This is one of those things that proves you're getting old. I've never had a group that I actually like go the late night house band route. Springsteen fans saw Max Weinberg take his act to Conan's show; and I'm sure there were some jazz heads who were flabbergasted to see their main man Kevin Eubanks signing up with Jay Leno. But The Roots? The Illadelph generals opening up for that stuttering mop-headed ball of suck, Jimmy Fallon? It's kind of tragic. On one hand, we'll get to see The Roots on TV every night; on the other hand, Black Thought opening for Jimmy Fallon every night is the cultural equivalent of Miles Davis playing his horn on the subway platform to back up a semi-trained dancing spider monkey. To the extend that The Roots are a hip hop group, it's pretty fucking shocking. To the extent that The Roots are a hip
ster
group, that's the end of that. They still give one of the best live shows anywhere, and the thought that the only way to see them live any more will be in the middle of the afternoon in a Midtown studio between periods of Jimmy Fallon snickering at his own cue cards is just an atrocious thing. But they're old and so are we, so everyone is tired. Now I will go and cut myself repeatedly.