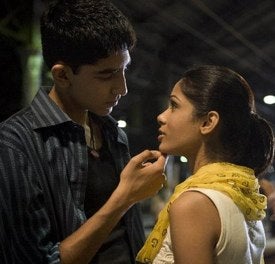 If or when the U.S. Treasury stumbles too badly to stop America's slide into recession, we'll always have Fox Searchlight to bail us out. The mini-major had another specialty smash last weekend with
Slumdog Millionaire
, the Mumbai-based genre-bender whose
$35,043 per-screen average
was the fourth best of any film this year, trailing
The Dark Knight
by less than $1,300 per location. And if a quick scan of the Searchlight record tells us anything, the numbers will continue to astound — and they portend even better things for the Oscar race.With critical raves in part pushing it to a $416,000 opening since last Wednesday,
Slumdog
is Searchlight's fifth best opening average in the last five years. The three titles just above it:
2007:
Juno
($59,124 per screen; $143.5 million cumulative gross)
2006:
Little Miss Sunshine
($52,999 per screen; $59.9 million cumulative)
2004:
Sideways
($51,760 per screen; $71.5 million cumulative) All of which went on to earn Oscar nominations for Best Picture, and all of which won for Best Screenplay. Of course
I Heart Huckabees
trumped them all with
$73,044 per screen
, and we all know
how that turned out
. Still! Clear spots in your Oscar pools, and let the Obama transition team know where they'll find the real economic stimulus. You can thank us later.