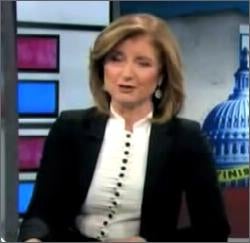 Arianna Huffington is branching out and branching out some more! Fresh off her adventurous night
subbing as the host
of Rachel Maddow's show, the accented mogul (and current
non-friend to us
) announced today that the Huffington Post "
is going to raise money
to fund investigative journalism projects." How does she plan to come up with the cash for this, the most expensive type of reporting? She won't say!
Yet
.
According to Reuters
, she said there won't be any details for three months. Perhaps in that time the economy will improve and donors will look to throw money at investigative journalism? Ha, no. So where will this cash come from? Some guesses:
She could fund it out of her own amply filled pockets. Not likely.
She could find an investor or donor to fund some staff positions. Not likely.
Volunteer investigative journalism!
I guess we'll have to wait and see. If you know the answer to fundraising these days, email us, and send money. [
Mediafile
]