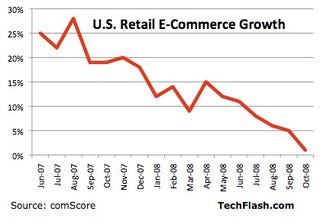 The accompanying chart from TechFlash says it all:
Online sales just aren't growing anymore
. October's 1 percent growth over October 2007 is the worst performance measured by ComScore since they began tracking stats in 2001. TechFlash quotes Gian Fulgoni, chairman of the research firm: "We can only hope that the recent sharp drop in oil prices will cause a continued easing of inflation and a strengthening in consumer spending as [we] enter the critical holiday shopping season." We can only hope? Dude, we can get down on our knees and pray.