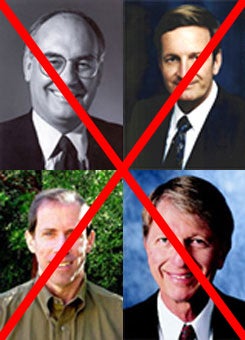 After a CEO's ouster, the knives always end up in the wrong person's back. Take how Jerry Yang is being
ritually badmouthed
now that he's out of Yahoo's top job:
Such a
nice
guy. We all loved him. But he couldn't make a decision to save his life.
Now, Yahoo's board of directors is being lionized for giving the nice guy the boot, and heroically engaging in a search for his replacement. But aren't they guilty of the same sins?What rank hypocrisy! Where's the blame for tapping Yang for the job in the first place? For not pushing him out sooner? And for that matter, for not having a hot-swappable substitute in the executive ranks when Hollywood dude Terry Semel abruptly quit last year? Those are all grave transgressions to which Yahoo's directors ought to confess. Chairman Roy Bostock should be first out the door. An old-school adman ridiculed within Yahoo as an "empty suit," Bostock has added nothing to the company. And he shredded any remaining credibility by
brazenly lying to Newsweek
about Jerry Yang's status as CEO, saying he was firmly ensconced in the job even as the board discussed his ouster. Add to the list investors Ron Burkle, Gary Wilson, and Art Kern,
whose ouster I called for earlier this year
. Can anyone say what Yahoo has gotten from their collective 26 years on the board? Corporate raider Carl Icahn, too, should make his stay on Yahoo's board brief and symbolic, a prize won for waging a fierce battle with Yahoo management over its failure to sell the company to Microsoft. He may have been right about Microsoft, but I can't believe he has the company's long-term interests at heart. And Jerry Yang, who has been allowed to keep his board seat, should resign it. Yahoo needs a clean break from his mismanagement; a lingering presence will only hurt the company he professes to love. Whoever Yahoo picks as its next CEO should make a priority of mucking out the boardroom; candidates for the job should demand that these six directors offer their resignation before they sign on the bottom line. Otherwise, the job will be untenable. The rest of the board I'd recommend Yahoo's next CEO keep, at least for the time being. Frank Biondi and John Chapple are too new to pass judgment on; venture capitalist Eric Hippeau and Hewlett-Packard executive Vyomesh Joshi actually have knowledge of the marketplace that's valuable to Yahoo; and telecom exec Maggie Wilderotter is a
credible candidate to step in as Yahoo's CEO
, should the board choose one of its own.