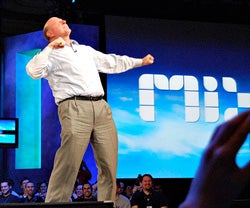 Microsoft's chair-hurling 800-pound gorilla slammed the door on talk of a renewed Yahoo acquisition deal at today's shareholder meeting in Bellevue, Washington. "
We are done with all acquisition deals with Yahoo
... We did our best. We've moved on." In business, this often means: We'll be back. For now, though, Ballmer said he'd rather cut a deal to serve Live Search results to Yahoo users — as a vendor, not an owner. Why can he speak with such confidence? Because he's already
snapped up Yahoo's key search engineers
.