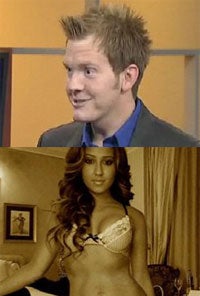 Update time! Last week we
introduced you
to Jonathan Jaxson, the incompetent publicist/Perez-sexing gossip who went spectacularly public with the worst PR strategy in the history of flackdom: Start a nude-photo scandal with his Disney-star client Adrienne Bailon. It was bad beyond a reasonable doubt then, and it bottomed out this week when Bailon and her Cheetah Girls cohorts were
effectively booted
from performing at the Macy's Thanksgiving Day Parade.Macy's deflected blame to the group itself, with a rep telling Fox that the Girls were confirmed to appear Nov. 27, "but due to scheduling issues they could not make it." No one's sure what those scheduling issues are, though, considering that Bailon and Co.
have the day off
during their tour's East Coast swing — and Jaxson isn't returning requests for comment. But that's OK! Tune in to Jaxson's next appearance on his local CBS affiliate in Atlanta, where he'll spend his weekly commentary segment once again spinning how this scenario helps his young star, as though losing an audience of roughly 54 million viewers ultimately has her career
right
where she wants it. Keep up the good work, Jax!