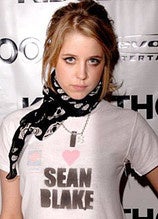 Teen
power child/sybarite
Peaches Geldof's last essay for downtown fashion magazine
Nylon
, where she "works," was so mocked on both continents that she [or more likely, wiser
Nylon
editors] has scaled down her second screed. It's a listicle about
things she likes
, which is way less controversial than a
highschool essay about why she hearts NYC
, which gathered the most insane commenters on the Internet. But this effort:
Baggy Sweaters: Grunge is back. These are comfortable, cozy, and you can take one right off your old man's back. Pair one with the black tights and heeled ankle boots.
Damn. Nothing in here to pick on a 19-year-old girl about—not this time. Oh, who are we kidding? Of course there is. Now the column is just the dumbest thing ever. We like sweaters and hippie looks and Doc Martens, too! We know we said we didn't want teen socials writing think pieces, but that is what the Internet is
all about
: oversharing, teen Livejournals, animal pics, and porn.