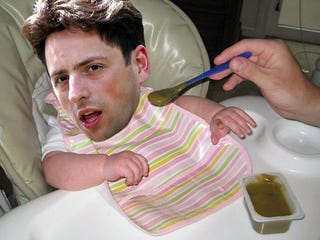 What to expect when you're expecting a billionaire? A tipster reports seeing Google cofounder Sergey Brin running into a hospital, orange Crocs and all. Here's what that means: His wife, Anne Wojcicki, is nine months pregnant with the couple's first child — who will be born into a fortune still worth $10 billion or more, even with Google shares plummeting. The spot where Brin was sighted, El Camino Hospital, has one of the Bay Area's best childbirth practices, and is close to Google headquarters in Mountain View, Calif. When we last saw Wojcicki, she was on
Oprah
talking about 23andMe, her genetics-testing startup
, with the TV host herself begging Wojcicki to give birth already. It's possible that Brin was just there to tour the hospital, a common practice before birth, but his haste suggested otherwise, our tipster claims:
I saw Sergey Brin (in all his blaze red-orange Croc glory) eating outside the Marya Cafe in the Melchor pavilion. After he was done eating he ran across the street towards the Orchard pavilion which is the maternity ward for El Camino hospital in Mountain View.
Brin and Wojcicki drew notice for the way they
got married in May 2007 in the Bahamas
, swimming to the sandbar. But they also got attention for the
way they handled a conflict of interest
; Brin lent 23andMe his own money to start up, and then Google repaid the loan and became an investor. The company's board approved the deal, but it has never lost the appearance of self-dealing. In what quirky way will they celebrate the birth not just of their first child, but the first member of the great Google dynasty? In Japan, the successor to the throne was greeted
with shouts of "Banzai!"
But we suspect Brin will be more low-key. Perhaps he will order up a new doodle for Google's homepage. We'll let you know as soon as we know more about this momentous occasion — the advent of the generation which will save us from the mistakes of the Google era.