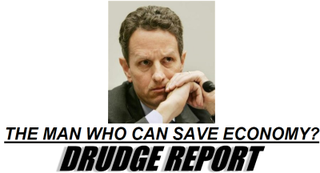 Barack Obama's Treasury Secretary pick made the stocks jump!
We're all saved!
Drudge calls New York Fed President Tim Geithner "The Man Who Can Save Economy?" (Family Love Geithner!) Geithner worked, obviously, at the Treasury Department that helped create this mess, in the Bob Rubin and Larry Summers days. His background is solid "didn't foresee this in retrospect obvious problem" economist, what with his IMF and Group of Thirty stints, just like everyone else considered for the job. Woman-hater Larry Summers will still probably do
something
in an Obama administration. Meanwhile comical New Mexico governor Bill Richardson will be our Commerce Secretary, because he's clearly bored in New Mexico. Hillary Clinton is still dithering about her job offer, and Obama will apparently
finally announce that whole thing after Thanksgiving.