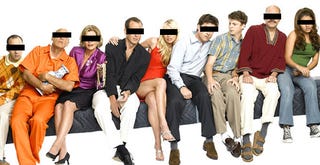 E!'s Kristin Dos Santos brings us
more news
on the
suddenly snowballing
Arrested Development
movie, including the new information that the film is budgeted at $15 million (around what we'd estimate the theatrical ceiling is for this property, though homevid sales should be killer). However, her most interesting tidbit, divulged to her by a principal cast member wishing to remain anonymous, is what the reaction is to someone (cough
Michael Cera
cough) who's not so keen on the big screen transfer:
"Yes, it's a go," an Arrested castmember who asked not to be named tells me. "We're all very excited. And it will happen with or without the holdout." Wait a minute...The holdout? Yes, I'm also told exclusively by multiple sources that one of the show's original castmembers has not signed on to the movie... "Yeah, [he or she] might not do it," an actor says of this costar. "However, I do know that we will do the project with or without [him or her]."
So who spilled the beans to Dos Santos? Though we want to believe it was a tipsy Jessica Walter (we'd like to believe she never, ever breaks character), Dos Santos has a history of ringing up Jason Bateman for scoop (examples
one
,
two
, and
three
), and his picture even adorns the post in question. We firmly hope that Bateman can convince his on-screen son that family — not breakfast, nor the possibility of a
Superbad 2
payday — is the most important thing.