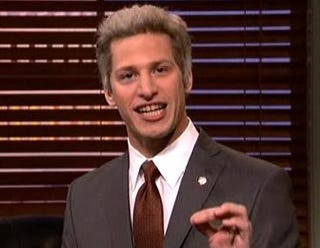 Politics took a backseat on last night's
Saturday Night Live
. After opening with a less than hilarious satire of the congressional hearing with Detroit automakers, the show tried to squeeze jokes out of country singer and host Tim McGraw saying slightly unexpected things for an hour. Even the most promising concept of the week — Andy Samberg as White House chief of staff-to-be Rahm Emanuel — was left on the cutting room floor, although NBC did offer it up as a web-only clip. Is it a laugh riot? Well, it wasn't on the show for a reason, but at least
SNL
writers have found one Obama administration joke that might be worth returning to. Click for the best bits in a long night.There are those for whom John Belushi and Gilda Radner was the last
SNL
worth watching. The next generation insisted that the show could never recover from the losses of Chris Farley, Mike Myers and Adam Sandler. Then Will Ferrell and Chris Kattan represented yet another peak that couldn't be reached. Really, it's just sketch comedy, and it's hit or miss no matter who the members of the cast are. And when you're opening your show with a satire of a congressional hearing with Detroit automakers, you know it's going to be a long night. That makes it even more inexplicable that they're not doing more with Andy Samberg's sadistic Rahm Emanuel character. If you can't get a laugh out of a little Jewish man going crazy on a congressman, you have problems.
Click to view
When even Kristen Wiig is having an off-night, you know the cast just needs sleep. Here's her clear retainer sketch featured after the monologue.
Click to view
A
Bond
parody is always death, although this one wasn't
too
terrible. Still, you kinda felt like you were watching Jeff Foxworthy.
Click to view
Do we really need another sketch where a white guy gets jokes for acting like a rapper? At least T-Pain half-saves this one. Although frankly, the weird human sculptures in his second song were more entertaining.
Click to view
Bill Hader's
Dateline
parody wasn't terrible, but come on. We know they're considering hiring a new Obama, but the show's writers can't think of anything fun to do with Fred Armisen in the meantime?
Click to view