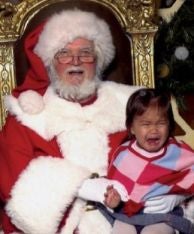 It's hard to think of a segment of the economy not affected by the recession, but Santa? The sight of the friendly guy is usually everywhere as December nears, but his pricetag is becoming prohibitive. Apparently you weren't aware of how much a hardworking Bad Santa can take down in a typical Christmas season. Things were really, really good for Lower East Side Santa Dick Shea two years ago, according to the New York Post . He pulled in a jawdropping $30,000, a number he won't approach in 2008 even if it he sells off his reindeer and sleigh. You'll be shocked by what he expects to pull in this Christmas:Shea is a 69 year old veteran of the Santa game, and though he used to make bank, he won't this year:
[Shea] is expecting to earn around $3,000 this year, down from $30,000 two years ago - barely keeping up with cleaning and replacement costs for his $900 costume. "It diminishes my 'ho, ho, hos,' " he said.
FAO Schwartz told the poor guy "no thanks", and other potential employers like the Manhattan Mall and Time Warner Center have also cut back. Even familiar nonprofit Volunteers of America has canned their chimney boxes campaign for donations that it has done every Christmas since forever. The recent spate of canceled corporate holiday parties hasn't helped matters. Jersey City Santa Glen Charlow hasn't booked a single gig, meaning he'll have to focus on making money as a graphic designer. Might want to try Hannukah Harry before sinking that low, Glen.
Where the Hell is Santa, Mommy?
[NYPost]