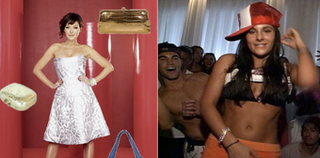 Remember when
Sex and the City
came along and started dictating to women what their hopes and dreams should be? It was a fun, heady time! The two main lessons were: shopping and fucking. That's what ladies do. And, when looking at
Sex
ism's disciples, one can see a clear path where these two roads diverged in the yellow wood of a Barney's spring sale. One group of people, those (including Candace Bushnell!) behind the regrettable NBC women's seminar
Lipstick Jungle
bumbled off toward the shopping, and a young queen of New Jersey named Ashley Alexandra Dupre trotted off toward the fucking (specifically as a hooker with the Governor of New York!) Finally, one has emerged the victor. And it should come as no surprise that, in the end, the fucking won out. We mean to say that in a ratings battle that was
historially waged on Friday night
, Dupre's much ballyhooed Diane Sawyer
20/20
interview handily trounced
Lipstick Jungle
(which aired, on a Friday for some reason, in the same slot as the interview) with a 8.2 million to 3.3 million point spread. So,
though series star Brooke Shields might deny it
,
Jungle
is ding-dong diddily dead. And Ashley Dupre is famous(ish) again!
Jungle
has plenty of sex, sure, but it's mostly about the clothes (there's a character named Victory who is a fashionz dezinerz!) and the Baudelaire lifestyles the garments imply. Dupre was all about where the sexing will get you—money! in New York! fleeting, squirrely third-hand fame! Both gluttony and lust are strong ass sins, to be sure, but I guess in the end the carnality, unlike the consumerism, is free. Well, not free. But... Oh, you know what I mean.