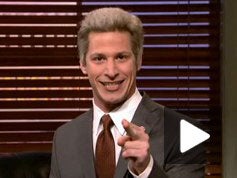 We'd like to take just a moment to officially append our
20 Fun Facts About Rahm Emanuel
, Ari's power-broker brother who's expected to bring a little profane, alpha-male flair to the White House as Barack Obama's chief of staff. We'll call this Fun Fact #21: Was impersonated by Andy Samberg on
Saturday Night Live
in a skit eventually spiked by the show's producers, perhaps fearing it could overshadow any one of host Tim McGraw's own, more solemn stabs at comedy. OR for one of a couple of other reasons after the jump — where you'll find the clip as well.Or maybe by the network, fearing the overindulgence of cursing, bleeped or not. Or maybe even by Samberg himself, fearing some Emanuelian turnabout for casting the Illinois representative as the boorish lout who would "strip [Joe Lieberman] naked and make yhttp://publish.gawker.com/ged/newou walk your McCain-loving-ass back to Connecticut, you fucking turncoat." We'll likely never really know why the sketch was killed, but we favor the latter scenario, just for the potential for Emanuel to threaten to "
crack that big fucking nose of his
" while teasing an
SNL
guest appearance in the weeks ahead.