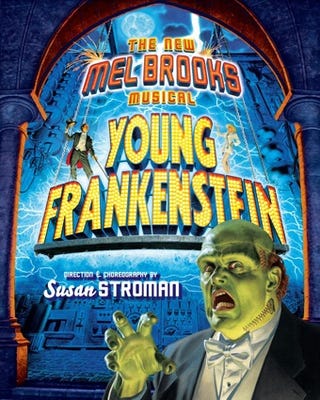 Camelot
is over! No one can pay their
Rent
! The
West Side Story
these days is that lots of Broadway shows are closing! Ahem. Yes, lots of big glittery plays and musicals are shutting their doors forever because of this creepy, kooky economy. One of the big Goliaths to fall last week was Mel Brooks' much-maligned
Young Frankenstein
, which will put on the Ritz one last time on January 4th. Thing is, no one's really all that sad to see it go. The show was anticipated like crazy—the Brooks pedigree! Remember
The Producers
? What a crazy, million Tony-winning smash that was!—and priced accordingly. Premium tickets (a rotten idea pioneered by Brooks and Co. when
Producers
hit big) reached excesses of $400, group sales seats (bread n' butter, folks) were drastically limited, and, perhaps worst of all, the critics seemed
pretty fed up with the whole endeavor.
Acidic word-of-mouth spread throughout the industry, from creative types to tour directors, and the show was marked (perhaps not entirely fairly) an arrogant, dead-on-arrival failure. Don't piss off the theatre queens and the cigar-chomping tour company people! They're vicious! The
New York Times
details the story today
, getting show producer Robert F.X. Sillerman to sheepishly admit: "What they perceived as our arrogance was nothing more or less than my ignorance." Oh, sad. Though, we're not sure we believe that! Sillerman goes on to add that the show will recoup its investment, though just barely. And, well, given the show's astronomical ($11 million to mount, $600,000 a week to keep up) budget, we're not sure we believe that either.