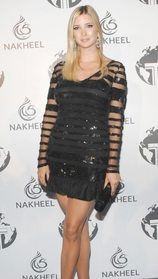 Have we mentioned that Ivanka Trump is converting to Judaism, presumably so she will be a better marriage match for Jared Kushner, the equally young owner of the
New York Observer
?
We have
. Ivanka is only 27, but she recently auctioned off an internship with her for Chabad, the Hasidic organization her boyfriend supports. This donation and the visibility that comes with sounds like a good way to get in with Kushner's family, because
we hear that
they don't like the idea of Jared marrying outside the tribe. But Ivanka just made another move in the chess game to ingratiate herself with the Kushner family.
Oh, UPDATE
: apparently nobody wanted to bid on the "internship," and the person who finally did won't be sending the kid to the internship anyway.
Park Avenue Peerage reported
that she auctioned off for the Habad charity fundraiser "a one-month internship with Ivanka in New York, with the highest bidder choosing between working with her in the acquisitions arm of the Trump Organization or at the Ivanka Trump Collection, her diamond jewelry line." Looks like she
has
learned a few "how to win friends and influence people" business tricks from Dad! The Kushners have long been good friends with Chabad groups. Jared was the head of the Chabad House at Harvard. And dad Charles got a rabbi from Chabad's Living Legacy organization
to write a letter on his behalf
when he got into all that prostitute-blackmail trouble. Donating to a Chabad effort, a favored charity of the Kushner family, was the kind of smart move she might want to mention in her
upcoming "motivational" book
.
Update
:"I have a friend that went last night and from what I hear no one wanted to buy that internship with her. It eventually sold for $9,000 but the person supposedly felt bad BUT won't be sending their kids to intern with her."