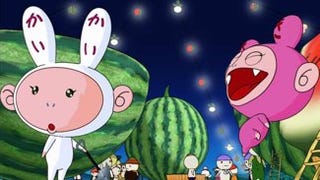 Don't let declining animation revenues and skyrocketing unemployment get you down; your Japanese knight in candy-colored armor will soon trot into town on his bug-eyed steed with succor for all. Or at least a more entertaining environment to enjoy whatever hallucinogens you turn to as the recession deepens: The iconic Japanese artist/animator/sculptor/merchandiser Takashi Murakami is
opening an L.A. studio
in 2009.The
LAT
reports today that Murakami, the "Japanese Warhol" and low-culture recycler who was received like a rock star at
last year's MOCA retrospective
, is leasing 9,000 square feet on N. Highland Ave. for his West Coast outpost. He and about 30 employees will commence blowing your mind with variations on Murakami's celebrated cheer-mutants KaiKai and Kiki, who will reportedly receive a feature-length treatment as the artist's housewarming gift to himself:
"Animation and film have always been among my greatest influences, ever since I first saw Star Wars and Hayao Miyazaki's films," Murakami said in a statement. "This studio represents a great step in the evolution of Kaikai Kiki and gives me a closer proximity to the community of artists with whom I hope to collaborate as I continue my explorations of animated and live-action film."
Got it, tipsters? When you see that inevitable Craigslist ad anonymously soliciting interns for "Massive Scatological Adventures in Watermelon-Husbandry," it's just Murakami. Send the link our way anyway; he's a neighbor worth keeping tabs on.