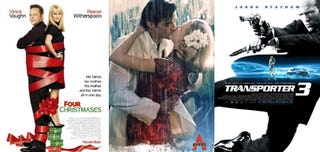 Welcome back to a special holiday edition of Defamer Attractions, your weekly guide to everything new, noteworthy and/or stillborn at the movies. And this Thanksgiving, we're grateful for a slate of Wednesday releases granting us a reprieve from another day of
Twilight
chatter. Not that any of them will surmount last week's blockbuster, but we have a quick and dirty forecast for long weekend's hits, sleepers and subplots, including a glimpse at the biggest disappointment and underdog to come. As always, our opinions are our own, but are easy to bake for that last-minute dessert idea. The full recipe is after the jump.
WHAT'S NEW:
Speaking of recipes,
Four Christmases
sure has a fresh one! Mix Reese Witherspoon and Vince Vaughn. Add two cups of diced ensemble players including Robrt Duvall, Jon Favreau, Kristin Chenoweth and Sissy Spacek. Flavor with ball-kicking, pratfall and baby-vomit jokes. Bake for two hours. Serve lukewarm. It's good for about $40 million over five days.
Transporter 2
is a little simpler hors d'oeurve for the guys out there, with Jason Statham liberally seasoned with bullets, quick cuts and decibels, turning out $18 million before the main course on DVD. But if you're allergic to the multiplex, you may be best best suited to skip ahead to this week's new home video releases; the art-house kitchen appears to be closed to deliveries for the holiday weekend.
THE BIG LOSER
:
Australia
is almost three hours' worth of the expansive (and expensive, at $130 million) hisorical epic no one makes anymore. And despite Oprah Winfrey's lavish endorsement, there's a reason for that: It's one in a generation that actually finds any traction in the two female quadrants whose repeat viewings push it toward box-office longevity and, almost necessarily, Oscar luster. Fox needs half a
Titanic
here (thus its
Hugh Jackman heartthrob push
at
non-starter Nicole Kidman
's expense) to make this work, and for the sake of the studio and director Baz Luhrmann and all involved, we hope they get it. But the middling, $26 million reality — especially on
Twilight
's likely second week at No. 1 — is what it is.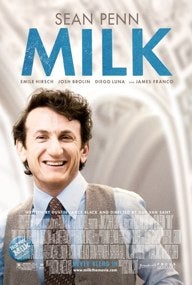 THE UNDERDOG:
Instant-message quibbles
aside,
Milk
is far and away the best thing opening this weekend; expect sell-outs and a per-screen average of at least $39,000 in 17 markets. (It opens wide Dec. 12.)
FOR SHUT-INS:
This week's new DVD's include Will Smith's brooding hero
Hancock
, the summer champs
Meet Dave
and
Space Chimps
, more Vaughn holiday frolic in
Fred Claus
, the TV knockoffs
A Colbert Christmas
and
24: Redemption
, and just in time for the holidays/white-elephant gift exchange,
Beverly Hills 90210: The Complete Sixth Season
. So will your Turkey Day food coma overlap into moviegoing? Is it more of a football-and-shopping weekend, or will the
budgie-smuggling pull
of
Australia
be just too challenging to withstand? In any event, have a fantastic holiday, and should you brave
Space Chimps
, please let us know what we're missing.