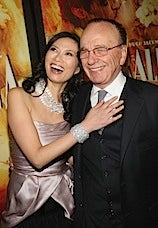 For the most part, Rupert Murdoch courts controversy. "He likes to set the house on fire and watch all the fire engines drive maniacally down the road," Michael Wolff writes in a biography of the News Corporation chairman. But he's touchy about his third wife, Wendi Deng, nearly 40 years his junior. He was upset when the Wall Street Journal decided to profile her in 2000. And he is suspected to be behind the spiking of a Fortune contributor's Deng profile for an Australian newspaper chain he partly owned at the time, and the subsequent sanitization of Deng's Wikipedia entry. So Murdoch can't be tickled that Wolff says Deng has him by the short wires, according to the Times' new review of Wolff's Murdoch bio:
What does matter, according to "The Man Who Owns the News," is his third wife, Wendi Deng, who is 38 years his junior and controls him to the point of reading his e-mail.




("Let's recast this story as a triumphal, even uplifting tale of pluck and achievement," Mr. Wolff writes, about how she came to marry such a powerful older man. "She's not Becky Sharp, she's Pip in 'Great Expectations.' ")
That little detail about Deng resonates especially strongly since it reinforces the picture the Journal painted of her in 2000 (original) as a deft and serial manipulator of powerful men:
Her ticket out of China came in 1987, when she met a Los Angeles couple, Jake and Joyce Cherry... Mrs. Cherry says she had grown increasingly suspicious about Ms. Deng's relationship with her husband. Mrs. Cherry recalls discovering a cache of photographs her husband had taken of Ms. Deng in coquettish poses back in his hotel room in Guangzhou. Mr. Cherry confirms he had become infatuated with the young woman...




The Cherrys divorced, and Jake Cherry married Ms.Deng in February 1990. But that union didn't last. Mr. Cherry says that about four months after the wedding, he told Ms. Deng to leave because she had started spending time with a man named David Wolf...




Former colleagues describe Ms. Deng as having been adept at juggling the interests of News Corp.'s various units, which like to operate independently... She is said to have shown no hesitation about walking unannounced into a senior executive's office to discuss the latest Chinese entrepreneur she had met or government official she had contacted...




In early 1998, she first appeared at [Murdoch's] side, acting as his interpreter when he traveled to Shanghai and Beijing. By the summer of 1998, the Star TV staff was buzzing about romance between the pair. After dinner meetings in Hong Kong, they were observed holding hands. In May, Mr. Murdoch had separated from his wife of 31 years, Anna. The split surprised even his closest aides, who say they hadn't seen any sign of a rupture.
Can't wait to see how the book is reviewed in the Post and Journal!