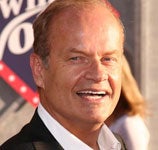 · Megan Mullally, Kelsey Grammer, Charles S. Dutton, Bebe Neuwirth and Debbie Allen will star in MGM's remake of Fame. They are still looking for the breakout star who will play Coco Hernandez, forced to undress in tears as she capitulates to the perverted whims of a phony director and his "screen test." Coco will never be the same. [THR]
· To recoup some of his holding company's staggering $1.6 billion debt, Sumner Redstone reluctantly sold his majority stake in Midway Games Inc.—which also meant relinquishing the prized Ms. Pac Man bow he loved wearing to industry functions. [Variety]
· NBC tasted a rare victory last night thanks to a fierce battle between some Vikings and some Bears, neither of which had anything to do with Rosie O'Donnell. [Variety]
After the jump: Can Martin Scorsese save HBO?
· The Death of the Pilot Era is itself now dead, as the last crop of pilot-free primetime stinkers suggests pilots might actually do some good. [THR]
· Speaking of pilots, Steve Buscemi is nearing a deal to star in Boardwalk Empire, a Martin Scorsese-produced pilot for HBO that follows hooch-runners in 1920s Atlantic City. Did we mention they're also vampires? They're vampire hooch-runners! (OK not really.) [THR]