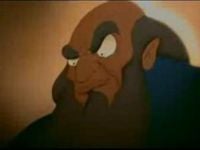 · Jay Baruchel, NDG's greatest contribution to cinematic dick humor, is indeed in talks to play the title role in a live-action, NYC-set version of The Sorcerer's Apprentice for Disney. It also stars Nicolas Cage as the sorcerer who leaves for a few hours while his underling plays around with his magic wand, then commands an army of marching tissues to clean up the mess. [Variety]
· We're going to devote exactly as much space to this story about a Romancing the Stone remake as that idea deser [THR]
· Lorne Michaels will produce a movie based on a recent NY Times article about a child food critic who "charms his way into posh eateries." The similarities to Ben Lyons end there, we're afraid, as the little tastemaker doesn't then insist on barging into the kitchen to have his photo taken with Gotham's celebrity chefs. [Variety]
After the jump: Heroes to introduce new character with deadly, strawberry-rhubarb-simmering abilities!
· Not all is bleak at Universal today, as Pushing Daisies creator/widow Bryan Fuller is close to signing a two-year, seven-figure deal that will bring him back to the ailing (or some might say birth-defected) Heroes. [THR]
· Stalled transatlantic sensation Russell Brand is "developing a remake of Arthur," with Brand obviously set to star as the alcoholic heir. No word yet on whether Liza Minnelli will reprise her role as the blue collar pixie who steals his heart, as much as we think there would be some real sparks off those two. [THR]