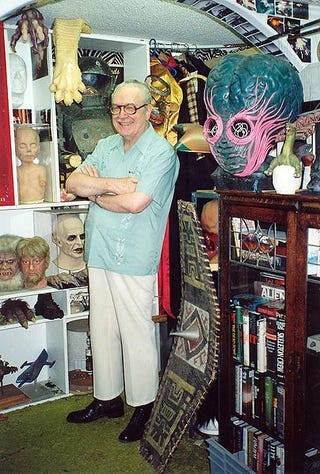 Sad news: pivotal science fiction figure Forrest J Ackerman has passed away. Ackerman was a true renaissance man; he founded the magazine Famous Monsters of Filmland, discovered Ray Bradbury, and is widely credited with coining the term "sci-fi." He also owned an amazing Los Feliz house filled with memorabilia that became known as the Ackermansion, which he would let fans visit every Saturday:
"My wife used to say, 'How can you let strangers into our home?' But what's the point of having a collection like this if you can't let people enjoy it?" an exuberant Ackerman told The Associated Press as he conducted a spirited tour of the mansion on his 85th birthday.

His collection once included more than 50,000 books, thousands of science-fiction magazines and such items as Bela Lugosi's cape from the 1931 film "Dracula."
Ackerman was 92.