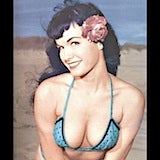 Bettie Page, whose saucy photo spreads helped get men through, and then end, the sexual repression of the 1950s, died of a heart attack in Los Angeles. She was 85.
A straight-A high school student and graduate of Vanderbilt University, Page worked stints as a teacher, secretary, fur coat model and stage and television actress before a police officer and pinup photographer discovered her on the beach at Coney Island in 1950. She soon moved on to racy S&M-themed photos with a brother-sister team team who "cut her hair into the dark bangs that became her signature." The photos became the subject of a congressional investigation and, page said, led to harassment by federal agents.
Page posed in a Christmas-themed Playboy centerfold in 1955 (image NSFW). Heffner told AP Page "had a tremendous impact on our society... an iconic figure in pop culture who influenced sexuality, taste in fashion."
Soon after, she became depressed, and two marriages in quick succession ended in divorce. Page was diagnosed with schizophrenia and sent to a mental hospital. She later had a religious conversion. After living for years on Social Security benefits, Page benefited from an image revival the Times described thusly:
David Stevens, creator of the comic-book and later movie character the Rocketeer, immortalized her as the Rocketeer's girlfriend. Fashion designers revived her look. Uma Thurman, in bangs, reincarnated Bettie in Quentin Tarantino's "Pulp Fiction," and Demi Moore, Madonna and others appeared in Page-like photos.


There were Bettie Page playing cards, lunch boxes, action figures, T-shirts and beach towels. Her saucy images went up in nightclubs. Bettie Page fan clubs sprang up. Look-alike contests, featuring leather-and-lace and kitten-with-a-whip Betties, were organized
Page also came to be worshipped on the internet. Fan sites widely circulated old pictures, typified by those below, which mix racy S&M shots with tamer beach-and-bikini material. These pictures give a sampling of the sort of pictures that were, according to AP, " quickly tacked up on walls in military barracks, garages and elsewhere, where they remained for years."
Later in life, Page refused to be photographed, saying she wanted to be remembered as she had looked in her heyday.
The next time you see a naked picture on the internet, or some good bondage porn, think of Bettie Page. She specifically requested it! In addition to making it all possible. (So hot!)