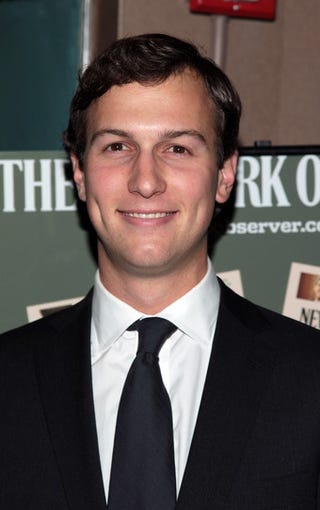 Jared Kushner, the Ivanka Trump-dating New York Observer publisher, once promised a Politicker for all 50 states. Yeah, so much for that. A tipster reports: "all of the non-East Coast sites are shutting down."
Launched early in 2008, at a time when local newspapers were cutting back, Politicker, if not a solid bet, had grand ambitions. "We view this as one of the most ambitious projects right now in journalism," said Robert Sommer, the president of the Observer Media Group, told the New York Times. "We're basically creating 50 news bureaus with full-time reporters in each state." They didn't quite follow through on that: Politicker currently lists 17 states.
And now there'll be a lot fewer. FishbowlDC adds the details that Kushner has laid off 70 percent of Politicker's staff, including its two Washington reporters, and is closing all but six state websites. The half-dozen remaining are all east of the Mississippi. It's a harrowing fallback for an ambitious venture that aimed to stretch from Alaska to Florida, from Texas to Maine.
At a holiday party Thursday night for the New York Observer — pizza and a keg in a conference room — Kushner gave a speech praising Politicker "despite what it has cost," an eyewitness tells us. If he planned to cut those costs the next morning, he gave no indication. But the problem with Politicker isn't what it cost; it's how little money it made.
The problem was finding the advertising money to support all those bureaus. Local reporters, thanks to newspaper cutbacks, are easy enough to locate. But advertisers, especially advertisers willing to spend small amounts at high rates to reach tiny, localized audiences, are scarce. Building relationships with those advertisers takes time and money on its own — and may not always prove worth the investment. A cautionary tale for those who would supplant newspapers in their local coverage: ink, paper, and printing presses aren't the only things wrong with the newspaper business.