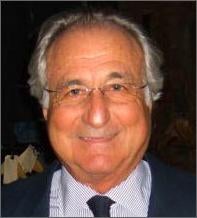 Hedge fund hustler Bernie Madoff made $50 billion in wealth evaporate—much of it from some of America's richest Jews. Does this fact have a greater significance? We'll say... yes(?)
You'll recall:
Madoff primarily worked the so-called "Jewish circuit" in both New York and Florida, where he used his position with prominent organizations to win confidence.

Places like Palm Beach Country Club and the Boca Pointe Golf Club in Boca Raton were filled with deep-pocketed targets.
Those are the types of clubs that Jewish people started back when the damn WASPs wouldn't let them into their own fancy, racist clubs. And now it has backfired upon them! Had Jewish people never pursued the stupid, WASPy idea of founding an exclusive Florida country club for the ultra-rich, this never would have happened.
Madoff also made millions earmarked for Jewish charities disappear. Stealing from children, and education, and the arts! Wiping out the wealth of entire Jewish dynasties! Why oh why couldn't the Jews be more stereotypical, "hoarding" their wealth in gold coins in secret compartments in their homes, slipping in to embrace it every night and cackle evilly about how they were soaking the foolish Gentiles for everything they have?
Turns out that the greatest thief of Jewish wealth since the Nazis is a hedge fund crook named Bernie Madoff. I'm grasping for the ultimate significance here, but it's probably contained in the Bible, or possibly the Torah. Actual Jewish people with knowledge of these subjects, please speculate in the comments. [Pic via]