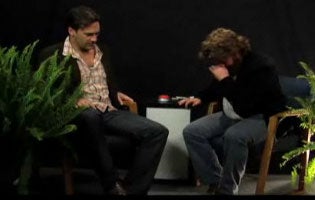 · Just as Mad Men star Jon Hamm was about to reveal if he'd ever fantasized about changing his name to Stewart Turkeylink, Zach Galifianakis's sneezing fit ruins everything. [via Goldenfiddle]
· Speaking of Jon Hamm's co-stars, Christina Hendricks has become engaged to Geoffrey Arend, whom one Hendricks-lusting Defamer employee described as "some weird-looking curly haired nobody!"
· Police are probing Sharon Osbourne after she allegedly got into a catfight with one of the contestants on her show Rock of Love Charm School, after she claimed Sharon was "only famous for managing her brain-dead rock star husband." Tsk tsk. As true as that is, one must never say those things out loud. [E! Online]
· Who's in the mood for some depression-era parkour?!
· So the egg-swiping gay penguin couple has set the internet on fire. The photo of them arguing with a neighbor over a picket fence was really what roped us in: "As if you don't have more eggs than you know what to do with already, Sheila. And while we're at it, your holiday decorations are atrocious. Guess some people just aren't born with a good-taste gene. Come on, Stephen. Let's go back to the house."
· The dismissedblog dismisses things so you don't have to: Shepard Fairey, Gym Douche, Nugg Nuts: You have all been dismissed.