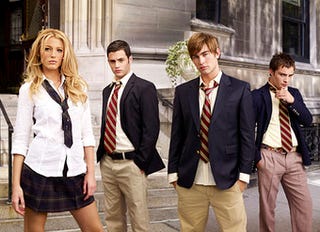 The recession affects all of us. Not wanting to appear insensitive or out of touch, it's become fashionable among the wealthy to moan about the sacrifices they have to make, too. Only problem?
Their "sacrifices" are laughable!
In the Daily Beast, Alexandra Penney, a former Self magazine EIC and current artist who lost her money in Madoff's Ponzi scheme, tells us what it's like. At first we thought it was parody! (It isn't, although losing money sucks, as we well know.)
I began to think about my options: I'd have to sell the cottage in West Palm Beach immediately. I'd need to lay off Yolanda. I could cancel the newspaper subscriptions and read everything online. I only needed a cellphone. I'd have to stop taking taxis. And who could highlight my hair for almost no money? And how hard was it to give yourself a really good pedicure?
Oh, and she adds she's been driven to this horrible indignity:
Yesterday, I took my first subway in 30 years. Dennis came with me to show me how to get a MetroCard. The world looks very different from a crowded Lexington Avenue number 6 train.
Meanwhile, a stunning Reuters article reports that Hamptons vacation homes may have to be rented out this year. Some are even selling at a loss, if they can sell at all.
And, OMG, high-end designer Vera Wang will have her next fashion show in her own retail store instead of the customary Bryant Park Tents, WWD says. "The intimacy of a smaller show feels much more appropriate for these times," the maker of thousand-dollar dresses said.
Also, resorts are discounting to "recession friendly" prices. For example, one hotel is "charging $401 for a three-night Sunday-through-Thursday stay in a studio suite through January. Bed linens are 600 thread count and newspapers are delivered to guests each morning - with the financial section removed."
Because when times get tough, the rich stick their heads in the sand.