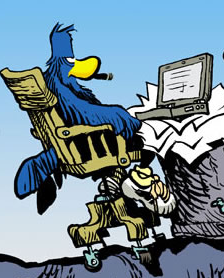 A deranged straphanger attempted to assault the MTA's chief executive with a shoe at a hearing today. Thankfully police apprehended the man and seized his deadly Oxfords.
Stephen A. Millies, an Amtrak worker, stood up at the MTA's public hearing on forthcoming service cuts and fare hikes, and demanded that MTA exec Elliot Sander identify himself.
Saying "this shoe is for you," Mr. Millies bent over to take off his shoe — apparently in an effort to take off the shoe and, presumably, throw it at Mr. Sander.
But the cops stopped him before he got the Red Wing 10 1/2 off. Millies was given a summons for disorderly conduct. Unfortunately his lack of planning for foresight will prevent him from becoming a folk hero. If you're going to throw a shoe at a public official, try something easy and fast to remove, like a loafer, and don't announce your intention before you've hurled the first one.