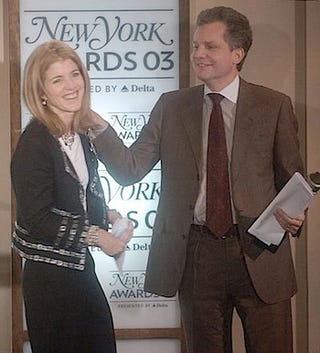 Prospective senator Caroline Kennedy is "close friends" (ahem) with Times honcho Arthur Sulzberger, and has maybe been feeding the paper scoops, but apparently some Times writers are now trying to publish damaging dirt. Awkward!
One might presume the nation's most (or second-most) esteemed newspaper would be above doing favors for friends of the family, like quashing an unflattering story. After all, if the Times starts pulling punches on Kennedy — now at the center of New York's foremost political drama — it's going to get real obvious, real fast.
But someone at the paper felt the need to leak word of the forthcoming story to Matt Drudge, a possible precaution, we'd venture, against having it spiked. Or maybe just the usual journalistic self-promotion. Or both!
It sounds like a sizzler: Mayor Bloomberg is spreading word Kennedy is GOING to be senator, so "get on board now!" How presumptuous! Why, she's just like Hillary Clinton, all smug and elitist and whatnot. No wonder there is "an intense backlash among Democrats."
In all seriousness: What a dumb time in American history to try running basically entirely on the strength of your last name. Yes, we're all super pumped about political dynasties in the wake of the Bushes and the Clintons! Someone needs to say, it might as well be the Times.
UPDATE: The Times story is live. Bloomberg says he's not supporting anyone, and his aide is supporting Kennedy on his own time, buit then he also claims in public she "can do anything" and "I have great admiration for her."
"Entitlement" and elitism are mentioned frequently:
They worry that the Bloomberg administration's advocacy for Ms. Kennedy will only reinforce her image as a privileged Upper East Sider whose biggest base of support is from Manhattan's exclusive social set.
"It appears to be another case of central casting by the city's cognoscenti," said a Democratic city councilman, John C. Liu. "It's amazing how much it's all about the upper crust."