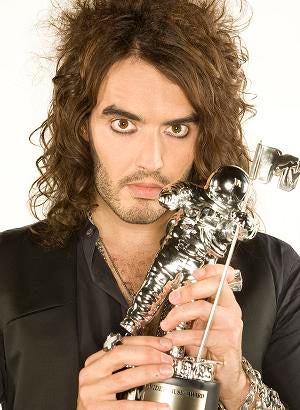 Though Russell Brand defined this year's MTV Video Awards by repeatedly cracking jokes about the Jonas Brothers' purity rings, it had seemed of late that the comedian had moved on to Helen Mirren.
However, after his erudite seduction technique was rebuffed by a comely New York Post source unsure of what "ablutions" were, Brand's affections returned to more familiar waters.
British comedian Russell Brand isn't done picking on the Jonas Brothers.

Who does he want to kiss on New Year's?

"I think all of the Jonas Brothers," he told Usmagazine.com at the Los Angeles premiere of Bedtime Stories on Thursday. "But very gently and consensually."
We have a feeling certain JoBros might return those kisses more consensually than others, but we ask that Brand not be deterred. Clever placement of the mistletoe and a subtle spiking of the tour bus egg nog could lead to a session of flat-ironing sexually charged enough to please even ardent fornication-prescriber Courtney Love.