While film critics' Top 10 lists pile up around the Web, our own review of 2008 must start where any true movie interest starts: The posters.
We scoured hundreds of one-sheets, banners, international posters and other materials for the handful that provoke, move, repel and entrance — sometimes all at once. Your mileage may vary, and a few notable omissions will have to wait a year for revisiting. But find below what we hope will inspire more studios and designers — for better or worse — to an improved 2009.
THE BEST MOVIE POSTERS OF 2008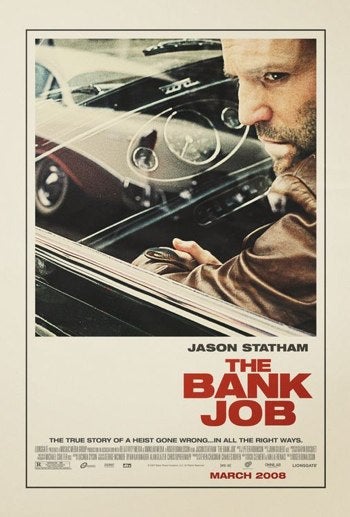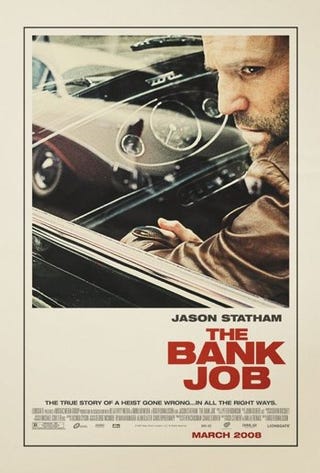 The Bank Job: Most Jason Statham posters afford him little opportunity to do more than look fierce, threatened or thoroughly trapped. But this one-sheet for his nifty, underappreciated heist gem frames him exactly as we like him: A kitchen-sink bloke with style to spare. However badly he wants what's on the other side of that window, it probably wants him more.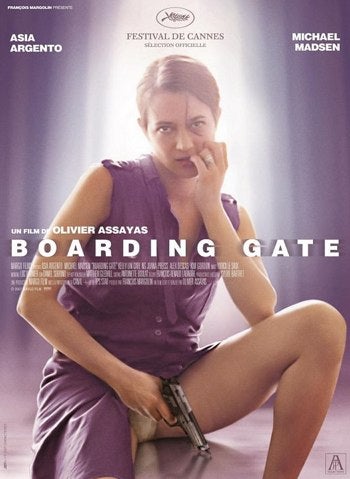 Boarding Gate: Upping the stakes from last year's Brave One/Jodie Foster firearm-phallus campaign, the marketers behind Olivier Assayas's nonsensical thriller dispensed with implicitness altogether by placing Asia Argento's handgun squarely in front of her exposed panties. NB: When faced with the opportunity to have Angelina Jolie bend bullets from her groin-mounted firearm, Wanted's poster designers blinked in favor of something "a little more Moby-Dick-y."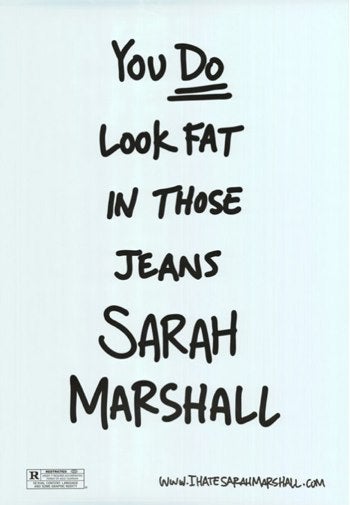 Forgetting Sarah Marshall: Universal could have thrown Marshall's decent ensemble on the one-sheet, but in a flash of brilliance, determined that even a bikinied Kristin Bell couldn't entice viewers quite the way a mysterious, vaguely misogynist, hand-lettering campaign probably could. $62 million in domestic grosses later, the move would influence another, less successful campaign this fall. (See Zack and Miri Make a Porno below.)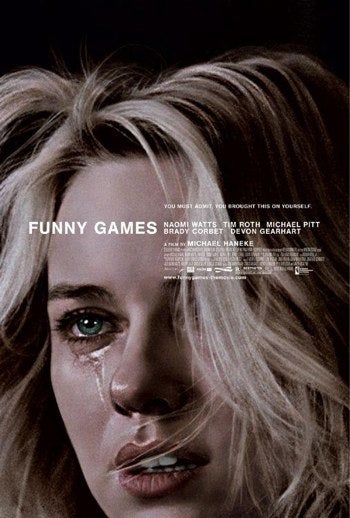 Funny Games: Michael Haneke's English-language remake of his own infamous, utterly despicable 1997 film was nevertheless remarkable for how it treated its leading lady. Often shot from behind or from her side, often stripped, tear-streaked and/or terrorized, Naomi Watts's performance is a marvel of experimental endurance that you shouldn't have to watch an otherwise awful movie to appreciate. Just check out the poster. You're welcome!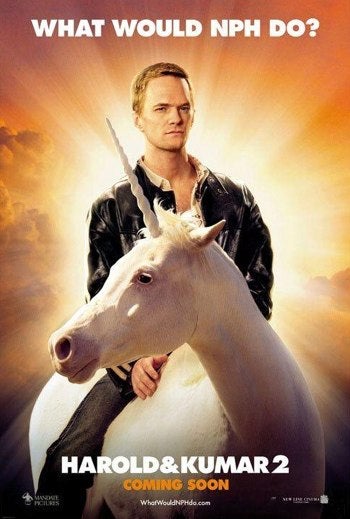 Harold and Kumar Escape From Guantanamo Bay: Neil Patrick Harris. A unicorn. If only Valkyrie had thought of this.

THE WORST MOVIE POSTERS OF 2008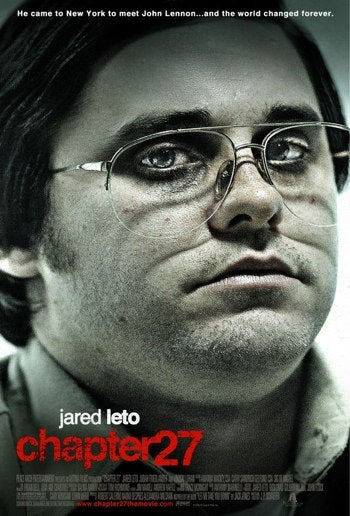 Chapter 27: When considering particularly bad poster art, it's tempting to imagine yourself in the late phases of the film's campaign development. But the stunning misconception guiding Chapter 27 to ruin actually freezes us in the moment when Fat Jared Leto's face is unveiled as Lennon assassin Mark David Chapman. And then we laugh and laugh and are eventually fired from the project. Which is just a long-winded way of us saying nobody fucking wins when Jared Leto gains 70 pounds for his art.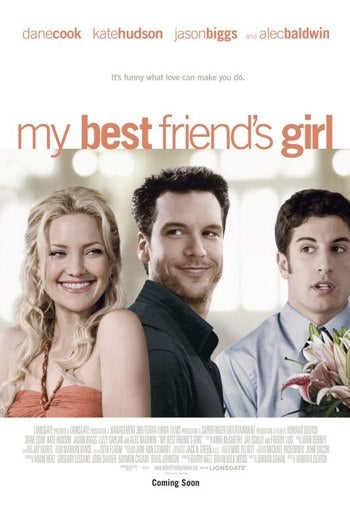 My Best Friend's Girl: If your leading man comes out to complain that his face looks like a vagina, then you've got a bad movie poster.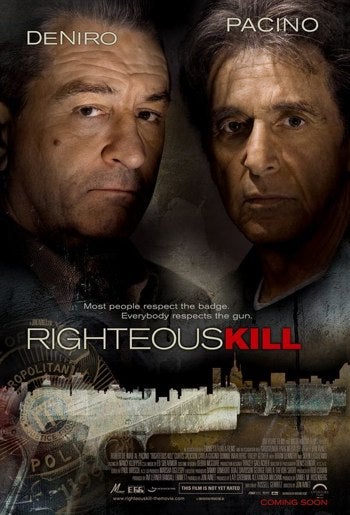 Righteous Kill: We've already griped at length about what specifically makes the Righteous Kill poster such a wreck. But, it turns out, we forgot something: 6. Tagline not a tacky-enough reminder of a man's actual murder at the hands of cops. They don't cut corners in England, apparently.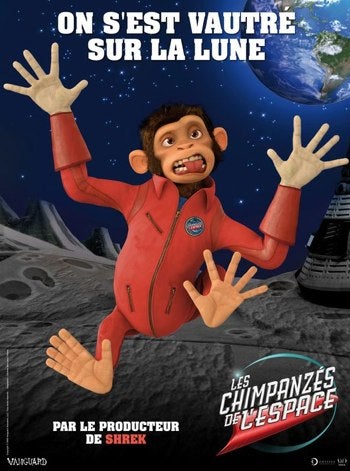 Space Chimps: We intended to keep this assortment to domestically released posters. However, this tres-rare artwork encapsulizes not only the reasons why Space Chimps crashed upon liftoff, but also why virtually all of Western Civilization hates us. If posters could be tried for international war crimes, this would have gone to the Hague months ago.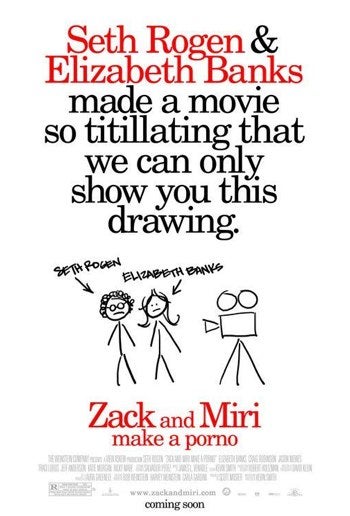 Zack and Miri Make a Porno: Loosely related to the Sarah Marshall campaign's crude sell, the poster for Kevin Smith's hard-R flop still undersold an A-list cast on the premise that viewers would rather read Harvey Weinstein barking at them than see the actual faces of Seth Rogen and Elizabeth Banks. If any film needed the full-ensemble treatment — including Craig Robinson, Brandon Routh, Justin Long and porn vets Katie Morgan and Traci Lords, even all just sitting on a couch in Smith's basement — this was the movie. You know what happened next — and not just partly because we called it months ahead of time.