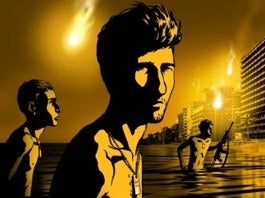 In a timely, sort of surprising portent of things to come this awards season, the National Society of Film Critics chose the Israeli animated documentary Waltz With Bashir as its best picture of 2008.
Ari Folman's autobiographical exploration of his role in Israel's 1982 invasion of Lebanon — literally painted from repressed memories corroborated by his Army mates — had settled into about a thousand Top 10 lists since its release on Christmas, but had managed only also-ran awards status since failing to win the top prize in May at Cannes. Its Oscar chances were equally endangered, facing WALL-E in the Animated Feature category and French sensation The Class in the Foreign-Language running. (It wasn't released in time to qualify for Best Documentary.)
But with Israel now embarking on another bloody military foray and WALL-E safely recognized in second place, the NSFC went topical in Bashir's favor. The rest of the list offered yet another boost to Happy-Go-Lucky, which tied WALL-E as Best Picture runner-up and claimed four prizes for Best Actress (Sally Hawkins), Best Supporting Actor (Eddie Marsan) and Best Director and Screenplay for Mike Leigh. All will go to the Oscars, where Hollywood will commence vanquishing them in favor of Kate Winslet or Heath Ledger or Christopher Nolan and/or whomever else the Academy is more comfortable putting in front of a worldwide viewing audience. The run was fun while it lasted.
Elsewhere, Sean Penn claimed Best Actor, and German actress Hanna Schygulla came out of nowhere to score Supporting Actress for the Turkish film The Edge of Heaven. Best Documentary went to Man on Wire, which is having its own Oscar engraved as we speak. Congrats to all, and may other international current events conspire less violently to prod Academy voters to their recognition in February.