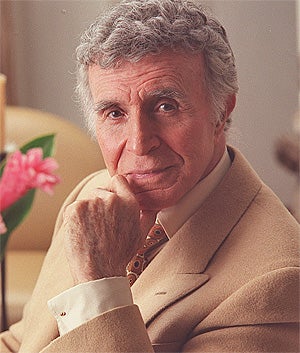 It's with heavy heart that we pass along news of Ricardo Montalbán's passing today, announced at a City Council meeting by president Eric Garcetti. He was 88.

Montalbán's career spanned decades. He was Mexican-born, and was discovered working in Mexican movies by MGM, who signed him to appear in musicals in the '40s. Here he is in 1947's Fiesta, dancing alongside the recently departed Cyd Charisse.

Here he is dancing a Tango with Jane Powell in 1950's Two Weeks with Love.

In the late '70s, he was the spokesperson for the Chrysler Cordoba, where his rolling "r"s helped tap into consumers' subconscious need for Corinthian leather in their American cruisers—nothing less.

He'll be best known as Fantasy Island's Mr. Roarke, playing that wish-granting tropical locale's proprietor/Tattoo-keeper with just the right amount of swarthy Latin mystery.

Montalbán reprised his 1967 Star Trek role of intergalactic tyrant Khan Noonien Singh in Star Trek II: The Wrath of Khan, where he rocked a voluptuous he-bosom so impressive, its authenticity is disputed to this day.

Finally, we can't overlook his work in The Naked Gun: From the Files of Police Squad, playing the nefarious tycoon Vincent Ludwig. Only Montalbán could deliver lines like, "Tell me, Mr. Papshmir, in all the world, who is the most effective assassin?" with such chillingly stone-faced effectiveness.