The media's most fervid Twitter users have a style: simultaneously vain and self-deprecating. It's like they don't even realize they're microcelebrities! Witness how unaware they are of their self-awareness: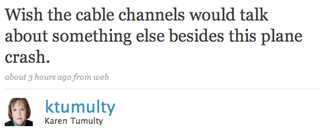 S
Time writer Karen Tumulty fumed at the stultifying media elite.



S
Guardian writer Bobbie Johnson thought about adding to his film collection.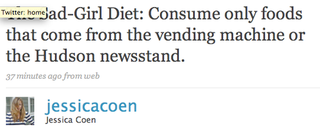 S
New York editor Jessica Coen promoted a new diet.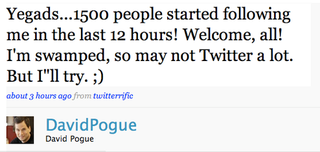 S

New York Times gadget columnist David Pogue tweeted to his tweeps — "Twitter peeps," get it? — about how he planned to talk about Twitter on Twitter, which is the best reason to use Twitter.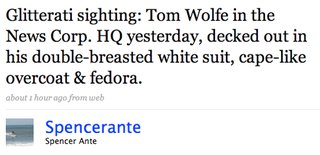 S
BusinessWeek's Spencer Ante saw someone famous.

Anyone else's tweets we should keep an eye on? Send us their username.