Look, everyone's a little excited about the inauguration. Here's a snapshot of a media elite which just won't shut up, in 140 characters or less: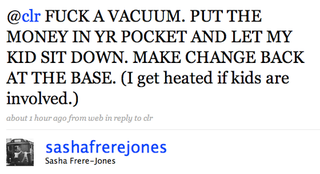 S
New Yorker pop-music critic Sasha Frere-Jones had an ALL-CAPS FREAKOUT about bus fare.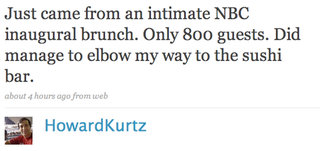 S
Washington Post media reporter Howie Kurtz didn't worry about turning into a thermometer.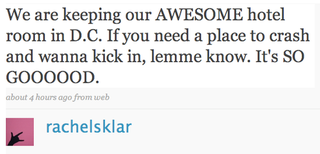 S
Former Huffington Post editor (and Rex Sorgatz conquest) Rachel Sklar looked for an inaugural roommate.


S
Matt Cooper, Condé Nast fancypants turned grubby blogger, had trouble using Twitter.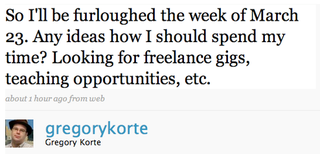 S
Cincinnati Enquirer reporter Gregory Korte had other things on his mind, like an upcoming work furlough.

Anyone else's tweets we should keep an eye on? Send us their username.