Are you sick of your friends who can't stop talking about the inauguration? Then you're really going to hate Twitter today. A special edition of the Twitterati to catch up with this morning's chattiness:

S

Jennifer 8. Lee of the New York Times had her importance recognized on arrival.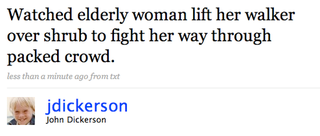 S
Slate's John Dickerson watched an elderly woman triumph over adversity.


S

Thomas Burr of the Associated Press saw a famous black person who was not Oprah.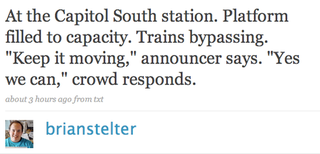 S
Times TV blogger Brian Stelter witnessed a collective cliché.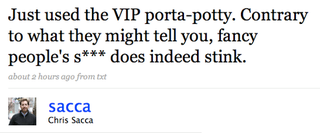 S
Ex-Googler Chris Sacca, a lefty blogger, overshared his bowel movements.

Anyone else's tweets we should keep an eye on? Send us their username.