Did you hear Twitter is now bigger than Digg? That's because you can't vote on Obamanaugural headlines by text message. More OMG Barack!!!!!!1!1!! tweets from the media elite: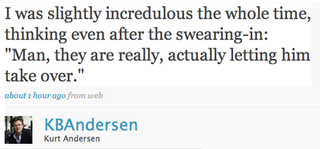 S
Spy cofounder Kurt Andersen couldn't believe it had all happened..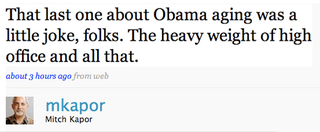 S
Software entrepreneur and technopontificator Mitch Kapor, once a candidate to be Obama's CTO, apologized for suggesting the all-new president looked old.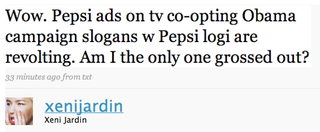 S
Boing Boing blogger Xeni Jardin hated capitalism.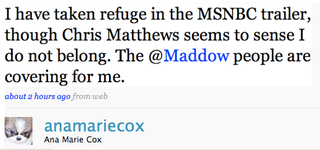 S
Air America radio hostess Ana Marie Cox looked for politically amiable shelter.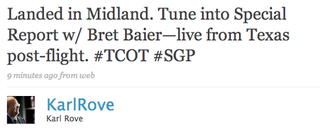 S
And evil genius turned Beltway pundit Karl Rove fled town altogether .

Anyone else's tweets we should keep an eye on? Send us their username.