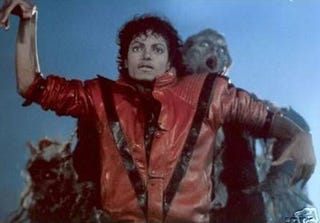 The Nederlander Organization, one of the biggest theater owners and producers around, has acquired the rights to Michael Jackson's "Thriller" video. The one with the zombies. Plus, Mary-Louise Parker's very bad Hedda Gabler reviews.
Nederlander runs 'Broadway in Chicago,' so some are suggesting that the extravaganza—based on the 1983, John Landis-directed creepshow homage—could plant its roots in that windswept burg. It doesn't sound as if Nederlander plans to obtain rights to the rest of the songs on the same-titled album, but MJ is broke as an M F'n joke and maybe dying, so maybe he'd sell them at a discount. A rep for the Organization says that Jackson "will be personally and fully involved in the creation of the show," which might mean new tunes. We could make a joke about his involvement simply being as a model for the zombies or something, but that would be too easy.
We could also moan and groan yet again that every musical these days is based on a movie or whatever, but this is based on a music video. The key word there being 'music.' Oh, and there's great dancing! This probably has more potential than, say, Chocolat. [via Observer]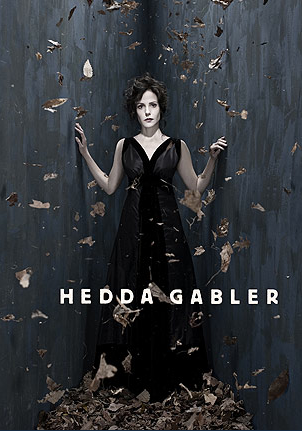 In other theatre news, much-beloved actress Mary-Louise Parker is starring in a revival of Hedda Gabler at the Roundabout that received a right thrashing in the New York Times this morning. Chief critic Ben Brantley called it "one of the worst revivals I have ever, ever seen." Yeeouch. We're still curious to see it, if only so we can understand just what Brantz is talking about. This could be our Carrie! Though, um, it's probably not that fabulously awful.