S
Jennifer 8. Lee saw Cameron Diaz. Ashton Kutcher missed Demi Moore. Choire Sicha dreamed about his therapist. On Twitter, we are all the stars of our own movies. Today's narcissist watch:

S
Jennifer 8. Lee of the New York Times was starstruck at TED.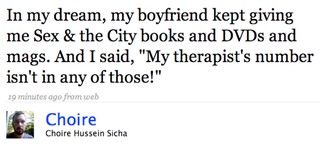 S
Gawker alum Choire Sicha had a weird dream.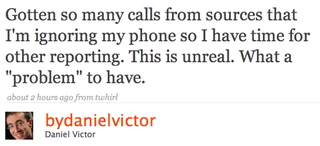 S
Harrisburg Patriot-News reporter Daniel Victor felt too popular for his own good.



S
Slate political correspondent John Dickerson prepared his daughter for a lifetime of oversharing.



S
Ashton Kutcher pretended to take a meeting but was really thinking about Demi Moore the whole time.

Anyone else's tweets we should keep an eye on? Send us more Twitter usernames, please.