Not all troubled-company CEOs got the memo that people get really pissed when they fly on private jets. New York Times executives are still jet-setting, for example.
From the Times to Rolling Stone to Forbes to various investment banks, some companies still cling to their company aircraft despite layoffs, near-bankruptcy and federal bailouts.
A tipster cherry-picked some names for us off this list of New York aircraft registrations. We cross checked the more interesting ones with the FAA's online database and Nexis, and were left with this list of dubious corporate airplane operators. Email us with any corrections or new information.
(The photos accurately depict the aircraft model, but not necessarily the specific model-year or plane in question.)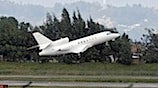 New York Times: Sulzberger's Falcon
Aircraft: Dassault-Breguet Falcon, 1997 (FAA)
Value: $10 million (approx.)
Company state: Debt is rated junk; trying to mortgage headquarters; recently completed first-ever major layoffs. Recent story: "What's not to like about a private jet? These days, plenty... They are rapidly becoming symbols of high-flying excess." Update: A Times spokesperson called and wanted to clarify that while the NYT does own this plane, it "hasn't been used for months."
Possible excuse: The reporters use it. Ha ha ha ha...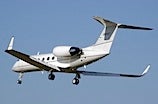 Wenner Media: Jann's G-4
Aircraft: Gulfstream G-IV, 1988 (FAA)
Value: $15 million (approx.)
Company state: Four rounds of layoffs in as many months, affecting Rolling Stone, Us Weekly and Men's Journal. Owner Jann Wenner was notoriously tight-fisted even in flusher times: "'He will fight over a $5 cab receipt."
Possible excuse: In addition to making it possible for Jann to ski 50 days a year, the jet is also used for ad junkets.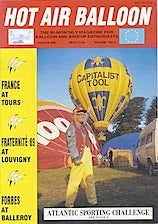 Forbes: A helicopter and three balloons!
Aircraft: Eurocopter EC-120B helicopter, 2001 (FAA); Balloon Works Firefly 8-24 hot air baloon,1983 (FAA); Baloon Works Firefly 7 hot air baloon x2, 1978, 1987 (FAA, FAA)
Value: $1 million for the helicopter (approx.)
Company state: Forbes.com gutted its Autos and Traveler staff last year; additional staff were cut from both print and online last month. Investors from Elevation Partners, a group that includes Bono, are pressing for faster online growth.
Possible excuse: The company mothballed its yacht and the Forbes family sold a 25-bedroom luxury ranch in Colorado. And Forbes alredy dispensed with an "Apache-type chopper" in 2007. Perhaps it should be allowed to keep at least one of the adorable hot-air balloons.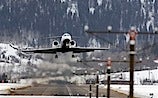 Time Warner: A fleet for sale
Aircraft: Gulfstream G-550, 2004 (FAA); Gulfstream G-V, 1997, x2 (FAA, FAA); Gulfstream G-IV, 2001 (FAA); Aeronca 7AC, 1946 (FAA)
Value: $40 million (approx.); $30 million x2 (approx.); $24 million (approx.); unknown
Company state: Write-down losses of $24 billion in the fourth quarter; thinking about selling Time Inc.; approximately 600 layoffs at Time Inc.
Possible excuse: Not making any at the moment: The Economist and Times have reported the company is selling multiple jets. But one wonders how many jobs could have been spared if $100 million+ had not been laid out in the first place. Also, until the jets sell it's possible the company is using this trick, described by the Economist: "By putting jets up for sale at a high price that ensures nobody will buy, companies can appear frugal-even as their bosses continue to fly as usual."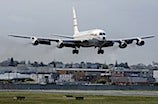 JP Morgan Chase: Airliner
Aircraft: Boeing 707, 1969 (FAA); and according to AP, "four Gulfstream jets, including a 2007 ultra-long range flagship G550 model."
Value: $48 million for the G550, others unknown.

Company state: Accepted $25 billion in a federal funds injection following acquisition of Washington Mutual. Stock cut in half since October.

Possible excuse: Being a banker is hard enough these days without flying commercial. Heck, it's like being in Vietnam, according to JP Morgan CEO Jamie Dimon.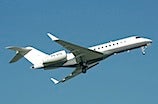 AIG: Big Bombardier
Aircraft: Bombardier BD-700, 2006 (FAA)


Value: $45 million (approx.)



Company state: After $150 billion in federal bailouts, the troubled insurance company is now in talks about getting still more help from the government, since it probably won't be able to sell its assets and pay back money it owes.



Possible excuse: When you're trying to sell parts of AIG, it's not going to be easy, and will probably involve meeting with lots of people. So, hey, why not retain "an ultra long range corporate and VIP high speed jet aircraft."


(Photos via Getty, Arpingstone on Wikipedia (public domain), Dmitry A. Mottl on Wikipedia, TheHeydayBaloonists.com, Associated Press.)