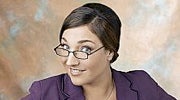 Pirates had a good week - from studios admitting they're totally screwed, to actual pirates receiving millions in ransom - so we suggest you stop BitTorrenting The Wrestler and watch some family-friendly TV.
WATCH
Supernanny [9 PM, ABC] - ABC sends Supernannny down a strange path tonight that hopefully has a happy ending. Jo is thrown into a house with the largest family she's ever had to tame (10 kids), but the kicker is that a dark family secret will be revealed. The preview for this episode is easily the most intense of any we have watched this year, especially the B & W footage of a dad dragging a child into a bedroom. We have a lot of hope for this "powerful Supernanny." Even though there probably isn't a "My sister, my daughter" plot point, that would set a new high and low (poker players call that "the wheel") for network reality programming.
Secret Life of... Pizza [10 PM, Food Network] - In honor of tonight's grand opening of the new Two Boots location in Echo Park (we actually hit up their soft opening last night and recommend you grab a slice of the Bayou Beast or the spicy Original before it gets too trendy), we're suggesting you learn a bit more about the art and history of the pie. Will this make you hungry enough to get off the couch and drive to Echo Park? No, but you'll think about it for a second.
TiVo

Late Show with David Letterman [11:35 PM, CBS] - After whetting your appetite earlier this week, there's no way we weren't going to remind you about Dakota Fanning's sitdown with Letterman. The excitement is less about the content of the interview and more about the artfully chosen adjective Dave will use to compliment Dakota's appearance when the 14 (almost 15) year-old sits down at the desk. Comedian Keith Alberstadt and indie folk Beirut round out the show, but hopefully show less skin.
KILL
Played By Fame [10 PM, BET] - Back to back half hour episodes of this new reality series where "celebrities" prank their fans. As derivatives of Candid Camera go, this is one of the worst. Minor celebrities embarrass the few people whose devotion make them stars with Al Shearer (Punk'd, Glory Road) playing host. In the first episode, Toccara (America's Next Top Model Cycle 3) puts a fan into a fashion show. In the second episode, Melyssa Ford (model, radio personality) enlists a man to protect her from a geeky stalker. It's never a good idea to bite the hand that fames you, but if some silly fan signs a release form, s/he deserves whatever punishment the producers create.
What's With That Really Expensive House? [8 PM, HGTV] - The title is sort of a grabber - but in the other sense of the word that denotes a heart attack. One of the few perks of working in television is the free swag you get from the show you work on, but it's doubtful that too many WWTREH? are going to be rocking their WWTREH? hoodies because it will only result in awkward moments with lots of people reading their chests. This program showcases the most "expensive houses in the neighborhood" and is possibly only relevant to people who live in that neighborhood or couples who have been together for over five years and have very little to talk about. That latter demo might be the entire focus of the HGTV network.