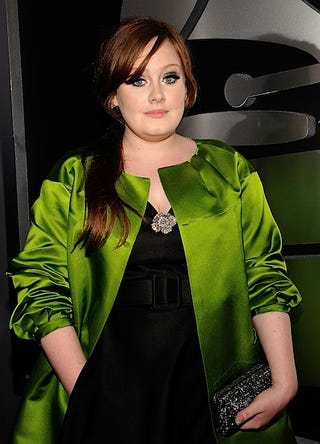 We'd love to believe Vogue's editor personally styled singer Adele for the Grammys out of the goodness of her heart (humor us). But Anna Wintour is nothing if not strategic.
Wintour approached the soul musician after Vogue photo shoot, according to AP (via Celebuzz):
"It was just like The Devil Wears Prada," Adele said. Then Wintour offered to style her for the Grammies, she added in disbelief. "I got a really nice dress," Adele said. "I don't ever wear dresses. I wear dresses with tights and flat shoes and a cardigan. But I am going to get my boobs out and everything. It's going to be quite a big deal."
We see three reasons Wintour selected Adele:
She was likely to win a Grammy, get her picture everywhere, and generally be worth knowing. She won the debut Critic's Choice prize at the Brit Awards before she had even released an album. Good call: She took home Grammy Awards for Best New Artist and Best Female Pop Vocal Performance.
The makeover session is no doubt supposed to show Wintour really, truly embraces beauty in all shapes and sizes, not just skinny models.
There was plenty of room for improvement. Here's an older picture of Adele.
Things seem to have worked out nicely.
Thoughts?