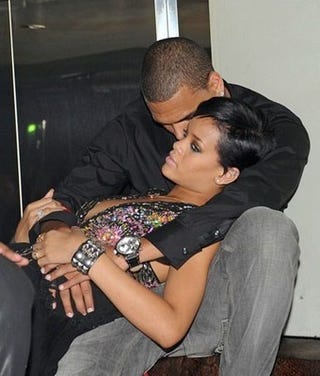 Finally, new details are emerging as to how the brutal alleged fight between Rihanna and Chris Brown began—and which hip-hop star has a vested interest in ending it.
According to the NY Daily News, the two were leaving Clive Davis's pre-Grammy party when Brown's phone lit up:
"He got a booty call. He got a text. Rihanna saw it and she got upset. They started to argue. She got out of the car. He wanted her to get back in, so he grabbed her," the industry source said. "She pulled away. That's when she's told people he hit her."
E! has more—a lot more—about just what went down at that point, alleging that it's Brown who left the car:
Brown pulled his silver Lamborghini to the side of a street in L.A.'s Hancock Park neighborhood. That's when, per the source, Rihanna grabbed the car keys and tossed them out the window, sending Brown into a rage.

He tried in vain to find the keys, then came back to the car, put his hands around her neck and, according to the insider, said, "I'm going to kill you!"

According to the source, the 20-year-old "Disturbia" singer told police that she lost consciousness, and when she awoke, Brown had fled.

According to the source, her right eye was blackened and badly swollen and she had hand prints on her arms. The responding officers were so concerned about her, they drove Rihanna to the hospital in their squad car instead of waiting for an ambulance.
Finally the NY Post reports that Jay-Z is...well, let's just say that he's more than "a little concerned":
The hip-hop powerhouse, who rapped "99 Problems," was enraged when he heard that Brown allegedly beat up Rihanna, the R&B star whom Jay-Z discovered and mentored.

"He hit the roof," a source close to him told Us Weekly. "Chris is a walking dead man. He messed with the wrong crew."
Developing...