S
Why work when you can Twitter? David Pogue from the New York Times played copy editor, Tina Fey contemplated cookies, and Internet-celebrity expert Paul Carr was just glad to be alive.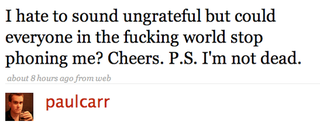 S
Self-described "new media whore" Paul Carr wanted everyone to know he was not dead.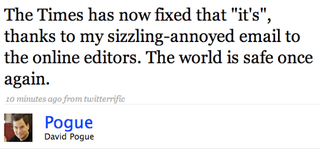 S
David Pogue upheld the standards of the New York Times.



SPolitico's Patrick Gavin learned how to say "bruschetta."



S
Brian Chen at Wired crowdsourced his latest assignment.



S
Tina Fey thought about the sweetness of fame.

Anyone else's tweets we should keep an eye on? Send us more Twitter usernames, please.