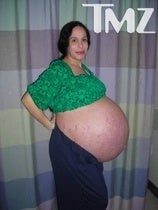 So, how did those photos of Nadya Suleman's horribly distended, octuplet-carrying belly get out into the world? They were licensed to TMZ (presumably by Octo-mom herself), which wants to drum up publicity and traffic.
This occurred to us after a top lawyer at TMZ's owner sent out an all-caps email screaming about the online tabloid's exclusive rights to photos of Nadya Suleman's distended octuplet-carrying belly.
Until now, we hadn't run said pics. Uh, WTF? So we called up the nice folks at TMZ and asked them what was going on. They say a photo agency called Polaris Images had been selling the Octo-mom pictures, even though TMZ had an exclusive license.
The unconfirmed scuttlebutt is that Suleman's own publicist may have given the photo to Polaris. To what end? Generating more publicity for her widely hated client? The motive isn't clear (if that's even how it happened). Peter Bolioli, Polaris's general manager for news, did not return a phone call, but a TMZ representative said Polaris stopped selling the photo after the site's request.
What's even odder: TMZ generally doesn't charge money to license its pictures to other sites; it just asks for credit and a link, in exchange for the publicity. (We get emails from TMZ all the time promoting stories in this fashion.) So what you have here seems to be a lawyer sending out an ANGRY, ANGRY email to enforce TMZ's rights to give away photos. Don't you love the Internet?
NOTICE OF TMZ'S EXCLUSIVE RIGHTS TO NADYA SULEMAN'S PREGNANCY PHOTOS

THIS IS TO ADVISE YOU THAT TMZ IS THE COPYRIGHT OWNER OF TWO PHOTOGRAPHS OF NADYA SULEMAN (THE "PHOTOGRAPHS") ATTACHED HERETO AS EXHIBIT "A" THAT TMZ FEATURED ON ITS WEBSITE AT www.tmz.com/2009/02/12/octomom-it-was-a-very-goodyear. IT HAS BEEN BROUGHT TO OUR ATTENTION THAT A THIRD PARTY HAS BEEN WRONGFULLY DISTRIBUTING THE PHOTOS WITHOUT TMZ'S CONSENT.

ANY TELEVISION BROADCAST OR INTERNET USE OF THE PHOTOGRAPHS RECEIVED FROM PARTIES OTHER THAN TMZ WILL BE CONSIDERED AN INFRINGEMENT AND VIOLATION OF TMZ'S VALUABLE EXCLUSIVE RIGHTS AND WILL EXPOSE THE INFRINGER TO SUBSTANTIAL MONETARY DAMAGES.

WITHOUT TMZ'S LICENSE OR PERMISSION, YOU DO NOT HAVE PERMISSION TO USE ANY PORTIONS OF THE PHOTOGRAPHS ON TELEVISION, IN ANY PRINT MEDIA, ON THE INTERNET, OR OTHER ONLINE SERVICE OR INTERACTIVE MULTIMEDIA TRANSMISSION, OR IN ANY OTHER MEDIUM.

________________________________

David J. Decker
EVP, Business & Legal Affairs
Telepictures Productions Inc.
(Exclusive photo exclusively via TMZ.com, exclusively)