S
Today, a media elite replete with tweets thought about all the things they no longer have. And boy, did Wired's editor get mad at a Danish reporter! Also, food, food, and more food: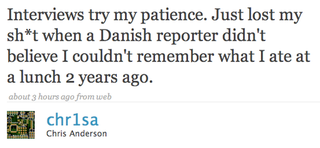 S
Wired editor Chris Anderson lost his "sh*t".



S
Liverpudlian editrix Alison Gow lost her iPod.



S
Wall Street Journal reporter (and Gawker intern made good) Mary Pilon lost her sight.



S
Tech blogger Mark Drapeau lost his mind over "brad pudding." (Sounds delicious, depending on the Brad!)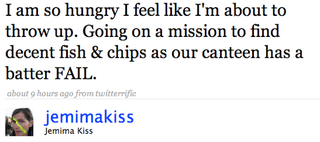 S
Pregnant Guardian writer Jemima Kiss almost lost her lunch, before she even got it.

Anyone else's tweets we should keep an eye on? Send us more Twitter usernames, please.