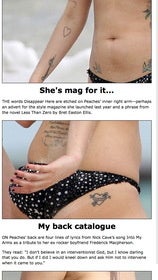 Oh look, Peaches Geldof just happened to bathe topless and to hold various awkward poses while a photographer snapped very clear pictures of her tattoos. The trainwreck hipster heiress must need money.
Or maybe just attention. But after being summoned back to London by dad amid an embarrassingly well-documented split from her American husband, some News of the World cash might come in handy.
And the British tabloid does, somehow, have the exclusive, complete with NSFW nudie shots, straight from South America.
Let's figure out the tats. They'll blow your mind. Through pointlessness.
Doves = LOVE. Not to be confused with marrying a dude for a green card.
Playing cards = good luck. Like being born to the right person.
Ace of spades = being an OUTSIDER. Like living in Williamsburg, with "Spanish gangsters," who eat bagels.
Unicorn eating chain of daisies = ???. WTF, because everything else about Peaches is deep and meaningful, you know?
Angel wings = "because girls see themselves as little angels."
"Disappear Here" = Her style magazine, and a Less Than Zero reference. So probably a coke tat.
Those four lines from Nick Cave's Into My Arms = somehow related to ex Frederick Macpherson.
"An open book with a bizarre hangman's noose hanging over the page" = to symbolize Peaches being "owned" by a metaphor-challenged ex.
"Ex Valentine" = some other boring ex story.
"Max Drummey" and a rosary = ditto.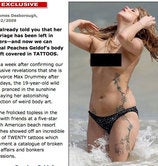 Peaches Geldof is a walking anti-tattoo public service announcement. Hopefully she'll similarly help kill off celebrity columns, vanity media projects and living in New York while named Peaches Geldof.