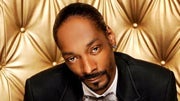 American Idol and Biggest Loser clock in at two hours apiece tonight, which makes it perfectly justified to take a half-hour break from either to check out Snoop Dogg's new variety show.
WATCH
Dogg After Dark [9 PM, MTV] - Snoop Dogg is a lot of things: rapper, actor, biznessman, but above all he is funny. Snoop has a great sense of humor about himself, probably because he is one of the most laid-back people in world. Instead of taping in a studio, Snoop's new variety show stakes out LA hotspot Kress where he shmoozes and occasionally throws to a comedy sketch. Tonight's episode features Paris Hilton, Pharrell, some performances by his in-house band, the Snoopadelics, and "rising Hip Hop star" Kid Cudi. It won't be high energy, but it will probably have as many good jokes as Chocolate News and without all the yelling.
TiVo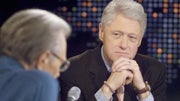 Larry King Live [9 PM, CNN] - Former President (and in our mind, President-for-Life) Bill Clinton sits down with Larry to offer his educated opinion on the issues of the day. Clinton was recently asked if he deserves blame for some of the economic junk and that will probably come up first, though we are also hoping Clinton weighs in on who he likes on American Idol (Knowing his weakness for annoying brunettes, we're scared he likes Tatiana).
Frontline [9 PM, PBS/KCET] - If your sympathies lie on the other side of the spectrum, then look for some evenhanded economic analysis from the best news-analysis-documentary show on television. Unless your trust fund is still robust or you have found a sweet Los Angeles niche (living in your uncle's pool house, being related to a Jenner), the economy affects your life like never before. Frontline dissects the Lehman Brothers collapse, the bailouts and everything else that your mom tries to talk to you about when you just want to go back to sleep on a Sunday morning.
KILL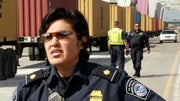 Homeland Security USA [8 PM, ABC] - Last time it crossed our desk/table in the corner of Pazzo Gelato where we steal wireless internet, we went out of our way to lambaste this scrubbed-up airport/seaport version of COPS and in the weeks since that day we have watched the show on DVR with the hope that something amazing would happen that might result in a retraction. Sadly, the show is still about as exciting as the worst episode of Parking Wars. The thought that the severity of the stakes of Homeland Security work would make boring content somehow more exciting is beyond fallacious. On tonight's episodes, some punk from M.I.T. tries to be annoying as hell by invoking his passenger's right not to show his ID to the TSA or something. More exciting stuff happens at the airport Chili's.