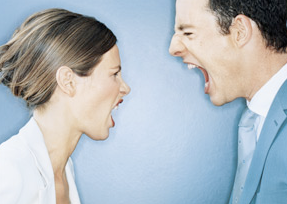 So yesterday's installment of New York magazine's "Sex Diaries" was insane right? It ended in actual domestic abuse. These things used to be kind of filthy fun, but these days they're just scary little downers.
If you're unfamiliar with the series, it's basically this: an anonymous person keeps a diary of their sex life for a week, complete with musings and fantasies and the like. It started off back in the rococo days when sex was fun and lighthearted. Now it's grim and apocalyptic. Yesterday's beats-'em-all-so-far entry was about a 29-year-old unemployed guy living in suburban Connecticut with his ex-girlfriend. He can't move out for financial reasons. So he has terrible, drunken, bitter fights with his ex about the man she's now dating; has ugly, sad sex with a stranger; and then gets arrested for domestic abuse after he drunkenly trashes his house and threatens the ex-girlfriend. To quote Intel's Miss Chris Rovzar, it's a "doozy."
And all the other recent ones have been depressing too. From the listless and agonizingly chaste cruiseship musician to the homesick, out-of-work British actor, lately the all the entries sort of make you want to jump off a bridge. Sex was supposed to be a nice refuge from the smoldering ashes of jobs and banks and things. Instead sex has become extra freighted with all these miseries. It's some sour, vicarious act of anger and aggression.
The stories are fascinating, sure, but for the sake of our own sanity, we eagerly await the return of the "Horny Hedgie" or the "Single, Hopeful, Unemployed Guy." A time when sex wasn't a depressing shit parade of end-of-the-world anxieties.
And, you know, when there weren't descriptions of penises as "drippy and disgusting."